This year, for the first time in its 21-year history, the Topanga Symphony will present four concerts instead of the usual three—an evening concert at 7:30 p.m. on Sunday, June 8, at the Community House. This concert is made possible by a grant from the S.E. and L.C. Backhus Foundation of San Rafael, California.
The guest artist at the June 8 concert will be dramatic soprano Mani Mekler, who will sing arias by Puccini and Catalani. Born in Haifa, Israel, Mekler studied singing in Italy with the great dramatic baritone and teacher Tito Gobbi. In 1974 the Stockholm Royal Opera offered her the starring role of Leonora in Verdi's Il Trovatore. She stayed with that company until 1978, when she left Sweden for Dusseldorf to join the Deutsche Oper am Rhein. After singing numerous leading roles with the German company, she left in 1986, but continued as a guest vocalist in Germany, France, Spain, Switzerland and Italy. Currently living in Los Angeles, Mekler is married and is the mother of a 10-year-old son.
COURTESY TOPANGA SYMPHONY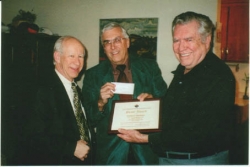 Stephen E. Backhus with the Backhus Foundation presents grant to Topanga Symphony conductor Jerome Kessler and president Jack Smith for the June 8 concert.
The June 8 program will also include Beethoven's "Egmont" Overture; Haydn's Sinfonia Concertante for violin, cello, oboe and bassoon; Debussy's Prelude to "Afternoon of a Faun" and Leopold Mozart's "Toy Symphony."
As usual, the concert will be free to the public, thanks to support from the Backhus Foundation. The Backhus Foundation, headed by Stephen E. Backhus, president, was founded in 1998 to make monetary grants to support the arts, education, history and preservation. Grant recipients of the Backhus Foundation have included the Museum of Collections in Novato, California, the principal harpist of the Oakland Symphony, San Francisco's Meridian Gallery Mural Project, the Sonoma County Repertory Theatre, the Redwood Arts Council and now, the Topanga Symphony.